Breadcrumb
Ocean Network Express
Ocean Network Express
Inauguration of Ocean Network Express.
Business Integration of container shipping by three Japanese shipping companies.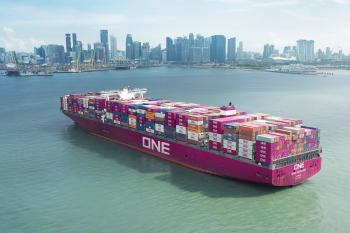 Ocean Network Express was established on July 7, 2017 by the integration of 'K' Line, MOL and NYK.
The Holding company was set up in Japan on July 7th 2017 and simultaneously a business management company was established in Singapore.
Regional headquarters have been established in Hong Kong, Singapore, UK, USA and Brazil and services are scheduled to start in April 2018.
Providing a wide service coverage with the 6th largest fleet in the world.
In April 2017, 'K' Line, MOL and NYK, started services as "THE Alliance" with other major domestic and foreign shipping companies.
Ocean Network Express will continue to provide services as an alliance member.
In addition to this alliance, we are continuing to further strengthen our services to Asia, Latin America and Africa regions.
We will further expand the number of ports in the future to Asia, North America, Europe, the Mediterranean Sea and the Middle East, also planning to expand our direct service to perform a wide service coverage.
As a result of the integration, our fleet size will be 1,440,000 TEU which is the 6th largest in the world (as of June 2017). Operations will be performed through a fleet of 240 vessels, including 31 super-large ships, such as world largest 20,000TEU container-ships, in a service network covering over 90 countries around the world.
*total fleet size of 3 companies as of June 2017 (except for stock on order)
Source:  Alphaliner Monthly Monitor, Jun 2017
(*TEU: Twenty-foot Equivalent Unit, 20 foot container conversion)